Sending Predators Back to Nature
Welcome to the website of the E-Shepherd – the solution to your predator problems. Farmers in South Africa are constantly battling with the ever-increasing problem of predators (particularly jackal and rooikat) attacking their sheep, resulting in huge financial losses. It has been estimated that approximately 5300 sheep are lost to predators daily in South Africa, with an annual loss in excess of R1,2 billion per year.
The solution
E-Shepherd is a successful non-lethal solution to the problem of sheep predation. It repels predators, thereby encouraging their return to their natural prey.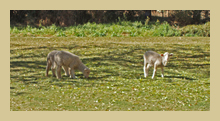 Also there are devices for game farm animals. Please contact the distributor for more information and pricing, different collar sizes are available.
Our focus
The E-Shepherd focus is on reducing losses from predator attacks. This must be done with a product that is ecologically and ethically acceptable, with no adverse impact on natural biodiversity.
Our Product



One complete unit...
Recommend ratio is 1 in 10 sheep.
Replacement battery...
The new battery comes with a new seal and a set of screws.
Replacement collar ...
Non standard size collars are sold separately. Please contact the distributor for pricing.